4 Ways to Go Green With Your IRA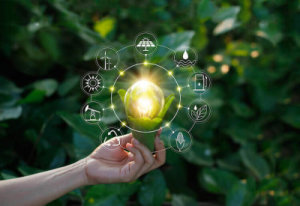 Part of the perks of being an IRA investor is having the power to put your money where your heart is.
With a self-directed IRA or solo 401(k), supporting the causes you care about and saving for retirement don't have to be separate efforts.
You can use your IRA to provide loans, private equity, or to be part of a crowdfunding venture in order to support the organizations and businesses you care about.
If the causes that you support also happen to also be a lucrative industry, you could have a winning combination.
For example, current economic trends show that renewable energy is more valuable than ever — 2017 was a record-busting year for renewable energy.
Growth in the alternative energy sector means there are more opportunities than ever to create a "green" IRA portfolio by investing in renewable energy enterprises.
At the same time, developers are designing and remodeling existing housing and commercial buildings to be more energy efficient.
Why? The median prices of houses bought by buyers who consider energy efficient "very important" were $12,400 higher than people who place less importance on energy efficiency.
Whether your desire to have a green IRA is personal or simply part of your financial strategy, here are 4 ways you can go green with your IRA.
1. Alternative Energy
One way to invest in renewable energy is by investing in the companies that are pioneering new solar and wind technologies.
These companies are usually growth-oriented, don't pay dividends and may have high valuations.
There are opportunities to invest both on the public exchanges as well as into a variety of private placements focusing on the energy sector.
However, the profitability of these companies can fluctuate, and companies that fall behind can quickly go bankrupt.
Another way to reduce risk and diversify your green portfolio is to buy exchange-traded funds (ETFs) that focus on renewable energy.
Although ETFs are still subject to the risks of investing in renewable energy, you won't have the risk involved in investing in an individual company.
2. Green Real Estate
In real estate, the future is leaning toward green. The more you invest in green real estate, the more equity you may be able to expect from your investment property.
32% of current homebuyers are Millennials — a generation who see energy-efficiency as a priority when choosing a home.
In Washington D.C., single and multi-family homes that have eco-friendly designs and installations sell for 3.5% higher than other homes.
Not only that, but green homes have a 10% higher appraisal value. Plus, you can ask for higher rent, lower holding costs and even be eligible for tax credits with sustainable properties.
3. Transportation
From aviation and aerospace to electric vehicles and mass transit, there are many ways for investors to invest in clean transportation:
Aviation
Increased air traffic and stricter emissions regulations are causing fuel costs to rise.
This is making way for startups to manufacture, operate or enhance low-emission aircrafts.
Electric Vehicles
The electric-vehicle market, there are new opportunities to invest in lithium-ion battery manufacturing and charging technology.
Battery investment reached $641.5 million in 2017.
Ride Share
Ride sharing companies (like Lyft) are another prominent green investment strategy of the future.
The $36 billion global ride-sharing industry is projected to keep growing rapidly to suit the need of a growing population.
4. Private Placements
Beyond investing in a hard asset like real estate, you can pick from a growing array of clean energy bonds.
These bonds may be issued by companies looking to complete alternative energy projects through municipalities or other public sources.
Clean energy bonds can also be issued by alternative energy consulting firms looking for a cost-effective way to raise capital for various projects.
When it comes to going green with your self-directed IRA or solo 401(k), you're not stuck inside a box. Do your due diligence when researching the assets that allow you to follow your passion, while still suiting your financial goals for retirement.
Contact us today to discuss any green energy investment opportunities for your IRA that you may be interested in today >