COVID-19 Driven Real Estate Trends for 2021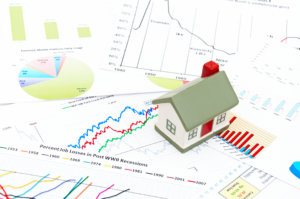 As we begin a new year, we can hopefully look in the rear-view mirror at the bleak reality that the coronavirus pandemic made of 2020.  There are still many steps to recovery, but with vaccines now in use, we can see a more normal future coming.  The new "normal", however, will likely be very different from pre-pandemic times.
For residential real estate investors, an awareness of market trends can be a valuable tool to making the right types of investments in the right locations with their self-directed IRA or Solo 401(k).
Here are some of the high-level changes that experts are talking about.
Work from Home is Here to Stay
The ability of many workers to telecommute at least a few days a week has been happening for some time.  The COVID-19 pandemic accelerated the trend and facilitated a more robust infrastructure to support remote workers.  Zoom meetings are now common and more companies are comfortable with the technology, as an example.
While about 24% of workers telecommuted in 2019 according to the Bureau of Labor Statistics, that number is clearly a lot higher today and will likely remain well above that number in years to come even once the need to social distance is in the rear-view mirror.
Downtown office cores will be less of a draw, as will needing to live close to work for a short commute.
The Home Office as a Must-Have Feature
Work from home is not great when the kitchen table is doubling as an office and perhaps a schoolroom too.  Telecommuters are looking for more room so they can have a dedicated workspace and some privacy.  Whether this means an extra bedroom or just well-designed nook spaces depends on age and family makeup.  For investors renting or selling properties, a focus on creating private workspaces can pay dividends and attract quality tenants and buyers.
If there is room for a home gym too, that is even better.
Big City Exodus
Another existing trend that was greatly accelerated due to COVID is the migration of tech and information workers away from expensive cities to more affordable suburbs and smaller metros.  While rent rates are dropping in the most expensive cities like New York, San Francisco, and Los Angeles, they are rising in smaller "Zoom Towns" such as Spokane, Bakersfield, and Des Moines.
The data shows that most such moves are more than 2 hours away, so this is not the typical flight to the suburbs.  A more significant migration is taking place.
While lowering cost of living is a priority for many movers, other factors such as access to nature or outdoor recreation are big draws when it comes to relocating.
Understanding this generational shift can put investors ahead of the curve.   Buying properties in the right smaller cities that will appeal to families looking for more space and access to the outdoors will be a good move.
Real Estate Transactions are now Digital
Real estate data giant Zillow reported a surge in traffic of for sale listings of more than 50% in May of 2020.  The numbers have remained well above historical levels for the platform.
More and more listings now include 3D virtual tours.  Likewise, digital mortgage applications and title closings are becoming more common.
Shoppers can now compare more homes, more quickly, from the comfort of wherever they happen to have a good wi-fi connection.  This will definitely change the way properties are marketed to buyers and tenants alike.
In addition to picking the right colors for a remodel, investors will need to become skilled at using the right search terms for online advertisement.  Home office will certainly be near the top of the list, as will biking or hiking trails nearby.
Marketing efforts will also need to focus more on screen-friendly visuals.  Virtual tours, quality photos, and even staging that highlights separate workspaces will all produce good results.
Low Mortgage Rates
Let's not forget that home mortgage rates are at historical lows and likely to stay low for some time.  This increases home affordability and will open the possibility of home ownership to a broader group.
Many younger households that have been trapped in high rent big cities can now think about purchasing an in-city condo or stretching out a bit in the suburbs.
Any time there is an increase in entry level home buyers, that means opportunity for smart investors.  Home flippers can focus on renovating older homes to make them more appealing to a younger crowd.  As inner-city rents continue to decline, the opportunity to purchase condos and townhouses at discount and resell or hold as rentals will increase.
The Delivery Economy
The impact of COVID on various economic groups has been very uneven.  Professional workers and especially participants in the digital economy have been doing quite well and have the freedom to relocate to suit their needs.  Other sectors like retail, dining, entertainment, and travel that typically provide a wide base of employment have been hammered.  A lot of those jobs will not be coming back, either.
The flip side is that the delivery economy is booming.  Warehousing and distribution services are seeing immense new investment as click-to-buy replaces a trip to the store.  This has produced strong employment and corresponding renter demand in hub cities like Memphis, TN, Fort Worth, TX, and Ontario, CA that serve air freight and distribution facilities.
A Coming Construction Boom
Some indicators are pointing to a big increase in new home building.  The demand for housing is far outstripping supply as it has for many years.  Capital to build is relatively inexpensive.  Questions remain around material supply chains and labor for builders, but it is clear that the building industry will be a real driver of economic recovery.  Expect a lot of energy and capital to be dedicated to getting the building industry moving forward, perhaps including some relaxation of regulatory constraints in some areas.
For investors this can mean opportunity by providing capital to smaller builders in the form of construction loans, acquiring land in the path of growth, or just following the money to invest in rentals near where growth is happening.
The Only Certainty is Change
This list only touches the surface of the kinds of once in a generation shifts occurring in the real estate space.  There will surely be many more changes in the ways that Americans choose to live, work, and play in the coming years.  All of this will create movement of people and capital on a considerably larger scale than we have seen in a long time.  All that movement means opportunity for those who can place their capital ahead of the demand curve.