Landlord Lessons: 3 Surefire Tips to Reduce Vacancy Rates [CHECKLIST]
When a rental property sits vacant for weeks on end, it can drag down your investment portfolio and eat at your retirement income.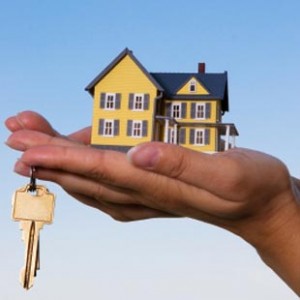 That's why, to minimize vacancy rates and get the most out of your IRA rental property, it's often worth investing a little money in making your rental more profitable. But how do you ensure that the dollars you spend will translate to less vacancy?
Below are three surefire tips to help you prioritize your property improvements and get the best possible occupancy rate for your money:
Choose renovations carefully.
Some renovations make a noticeable impact on occupancy rates, but many do not. Improving your property can increase its value on the rental market as long as you stick to strategic changes that are most likely to directly affect your bottom line. The key is to know what your target market looks for and avoid over-the-top luxury renovations that are out of sync with the rest of the neighborhood.
Bathroom and kitchen updates have the biggest potential for boosting your property's wow factor, and they don't have to cost a fortune. New fixtures, resurfaced cabinets and countertops, updated flooring, and fresh paint might be all it takes to give your property a competitive edge.
At minimum, Landlordology recommends replacing the following fixtures:
Constantly running toilets
Lighting that precedes 1990
Cabinet hardware that has lost its finish
Mini-blinds with missing slats
Drippy faucets or tubs
Pro tip: If you need to replace appliances, opt for black instead of white. It costs the same but is perceived as higher quality.
Replacing carpeting with wood, tile or vinyl flooring provides a greater return on investment than any other renovation, some property owners say. Hardwood floors are one of the top 10 amenities renters look for in 2015.
Adding a bedroom, assuming you can do it legally, can hoist your IRA rental property into the next price tier—particularly if you own a one or two-bedroom house. (If your property has four or more bedrooms, it's not as valuable.)
Pro tip: Make sure the new bedroom has a walk-in closet, a feature prized by renters.
Offering the right amenities can help you attract, and keep, quality tenants. Here are a few more amenities to consider adding if your property doesn't have them already:
Washer and dryer
Air conditioning
Patio
Hardwood floors
Dishwasher
Wireless internet
Off-street parking
Offer incentives.
In a competitive rental market, prospective tenants sometimes need a little extra nudge to entice them to your property. Some property owners don't like using incentives because they cut into rent profits, but when the alternative is letting your property sit vacant, the right incentive can save you money in the long run—especially if it helps you attract and retain great long-term tenants.
Waiving the pro-rated rent on a mid-month move can be a huge draw for new tenants. Moving is expensive, and mitigating these costs with a free week or two of rent just might sway them in your favor. It's especially worth it if your property would have been vacant during that time anyway.
A reduced security deposit is another way to entice renters with lower move-in costs. If you typically refund more than 50 percent of each tenant's security deposit, you're not risking much by offering half off the security deposit as a signing bonus.
Using renewal incentives to hold on to good tenants not only reduces the amount of time your property lies vacant, but it also saves you the time, energy and money it takes to find new tenants. More than half of renters are swayed by cash bonuses, preferably in the form of a rent discount or actual cash. Some property owners offer gifts, such as a new appliance or big-screen TV, or use property upgrades as renewal incentives.
Pro tip: New flooring, a washer/dryer and new kitchen appliances are the upgrades most likely to convince your existing tenants to stick around.
Market effectively.
Your marketing strategy plays a huge role in how long your IRA rental property remains vacant. Too many owners think it's enough to snap a photo, dash off a one-sentence description and post their rental online. But to stand out among the crowd, you need to know your market and speak in a way that appeals to your audience.
Pricing your rental appropriately is the first step toward minimizing vacancy. If your price is too high, you won't get the tenants you need. Survey the rental market, and adjust your rates accordingly.
Sell your property to renters by helping them visualize how your home can accommodate their lifestyle. This is where all those amenities you added come in handy. Include them in your rental listings, and use descriptive language to help prospective tenants see the potential in your rental. Every ad you post should clearly show what your property has to offer.
Invest in ample, quality photos, and include as many as you can in every listing. If possible, take photos of your property while it's vacant, as renters will have an easier time visualizing themselves in an empty home versus one that is full of someone else's furniture.
These strategies can help you avoid vacancies and get the most out of your IRA rental property. By investing in smart updates, offering the right incentives and using sound marketing techniques, you can attract great tenants and then entice them to stay.
Take a look at our checklist below and download the PDF.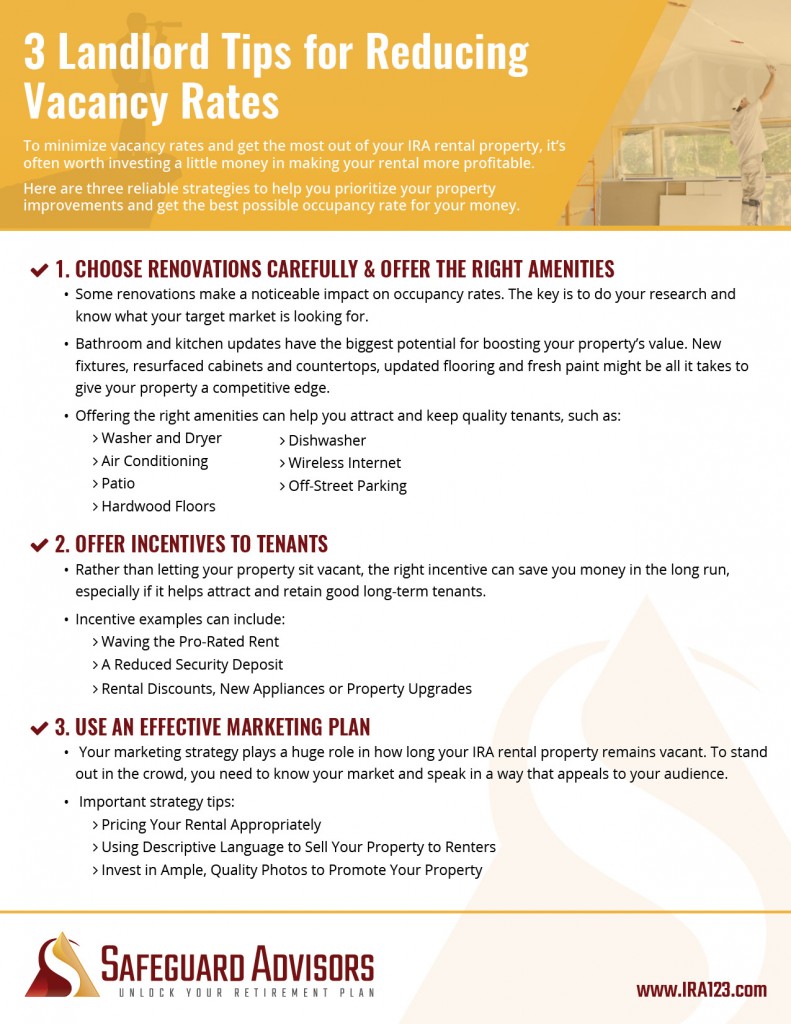 Photo by Mark Moz via CC license