New Construction Trends Every Real Estate Investor Should Know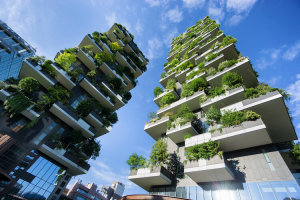 In an industry as competitive as real estate investing, you've got to equip yourself with as many tools as you can to stay one step ahead of other investors.
Staying on top of real estate market trends is always top-of-mind for every IRA real estate investor.
But what many investors may be overlooking are current and future construction trends, and how these may impact the housing market.
Natural disasters, new technology and green building are all guiding the future of America's construction trends. And these trends can all play a role in access to investments, price of premiums and demand within the housing market.
Here are 3 new construction trends and how they could impact the real estate market.
1. Resiliency, Sustainability and Green Building
From flooding to wildfires to hurricanes, the amount of natural disasters across the world hit record highs over the last year.
As a result, many new construction projects are being designed with a focus on resiliency in the face of natural disasters.
Buildings are responsible for more than a quarter of all greenhouse gas emissions (GHGs). To combat this, the US Green Building Council has recently adopted the RELi standard, which awards points to buildings based on categories tied to both resiliency and sustainability.
By focusing on building green commercial buildings and residential homes, contractors can reduce the impact that buildings have on climate change while also focusing on resiliency.
And reducing this impact may help lessen the frequency and severity of natural disasters.
By investing in green buildings, IRA real estate investors may be able to rely on a higher rate of return.
There is typically a higher-price premium added to green buildings. Studies show that single family homes that are designed and built using green building technologies tend to have a higher market value by about 3.5%.
Investing in green real estate can potentially have a higher initial value because of the higher cost of green building materials and technologies.
But in the long run, these initial costs pale in comparison to the cost reductions that investors can enjoy down the line.
Green buildings are energy efficient. According to the US General Services Administration, green buildings certified by LEED or Energy Star can save on average 25% in annual energy costs.
2. Virtual Reality and Earlier Investing
New technologies are changing the way construction projects are being planned and invested in.
Virtual reality (VR) is being used more and more to allow clients to experience a new construction project before it's been built.
And augmented reality (AR) is a new technology that overlays digital images or information onto a real-time video of a real-world construction project.
This creates opportunities for IRA real estate investors to invest in new real estate projects before they're even built.
3. Shortage of Qualified Construction Labor
In 2017, there were 200,000 unfilled construction jobs. And this shortage isn't going away anytime soon.
The Associated General Contractors of America reports that 80% of businesses in the construction industry are struggling to find enough qualified labor.
This shortage of workers is leading to delays in building and remodeling residential and commercial real estate projects.
The US is currently struggling with a nation-wide shortage of new homes, which is driving up the real estate market.
On top of that, there is currently a high demand for rebuilds due to damage from high rates of hurricanes and wildfires.
When you add shortage of skilled construction labor to the mix, the result is scarcity, high demand and higher prices in the real estate market.
The problem of having a shortage of skilled labor is likely to continue as new projects rely more heavily on advanced technology (and technology-adept workers).
Being a savvy IRA real estate investor is grounded in the ability to predict and understand the many different factors that affect the real estate market.
Staying in-step with current construction trends is just another tool real estate investors can use to make smart investments with their self-directed IRAs.
Discover more ways to stay connected with IRA industry news and economic trends >