How Successful Investors Make the Most of a Real Estate IRA [CHECKLIST]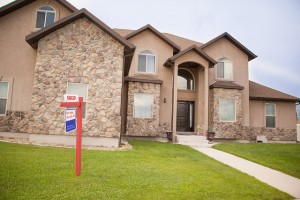 Although self-directed IRAs are considered a niche market, they are quickly gaining popularity, especially among investors who are hoping to diversify retirement portfolios. Self-directed IRAs allow for a broad range of investments, as they can include alternative assets such as gold, promissory notes, and real estate. In this article, we provide insight about how to be successful with your Real Estate IRA.
In previous posts, we have talked about how self-directed IRAs can be used to hold property and real estate notes. We also discussed the challenges of managing IRA-owned rental properties yourself, rather than hiring a property management firm. Now let's turn our attention to how IRA investors can be successful with real estate investments.
1. Knowledge equals power. Educate yourself on your investments; the resulting knowledge will put more funds in your IRA over time. Study the markets and submarkets where you would like to invest. The real estate market in the United States is made up of hundreds of smaller markets all rising and falling constantly, dependant on multiple factors. Understanding these dynamics can help you make wise investment choices. Don't base your investment selections on personal factors, but rather use the knowledge you have gleaned from your real estate studies.
Select markets based on your investment goals, the health of the local housing market, and the trends in the broader economy. Local neighborhood factors to consider include: unemployment rates, population growth patterns, job creation rates, and more.
2. Set clear and specific investment goals. Having a clear focus with your investment goals is akin to having a road map—it allows you to plan your steps and avoid haphazard choices. Your goals can include a number of things, such as the number of properties you wish to own, annual cash-flow targets, and parameters for rates of return. With these goals in mind, you can narrow down properties in the best neighborhoods in terms of taxes, schools, rental demand, crime, and so forth.
3. Maintain direct control. Own your real estate directly and avoid owning real estate through partnerships, funds, or through shares of securities that you can't control. You want to be in charge of your future; don't leave it to managers or corporations that don't have your interests in mind.
4. Cash flow is king. Aim to invest in properties and markets with positive cash-flow. Without regular cash coming in, you won't be able to cover operating expenses and debt service on your properties. Having positive cash flow is critical to your everyday operations as an IRA investor.  Appreciation in property value is icing on the cake, but you should never accept negative cash flow with the hope of future appreciation that may never occur.
5. Diversify. You don't want all of your properties in the same city, or even in the same state. Diversifying across several markets will help reduce your risk if one market declines. Geographically diverse investments will protect you against shifting regional factors, such as taxes and unemployment rates.
Some investors advocate for a diversification approach in which you to accumulate three to five properties per market, before expanding into a new, geographically unique market, typically in another state.
Take a look at our checklist, 5 Ways to be Successful With Your Real Estate IRA,
and download it here.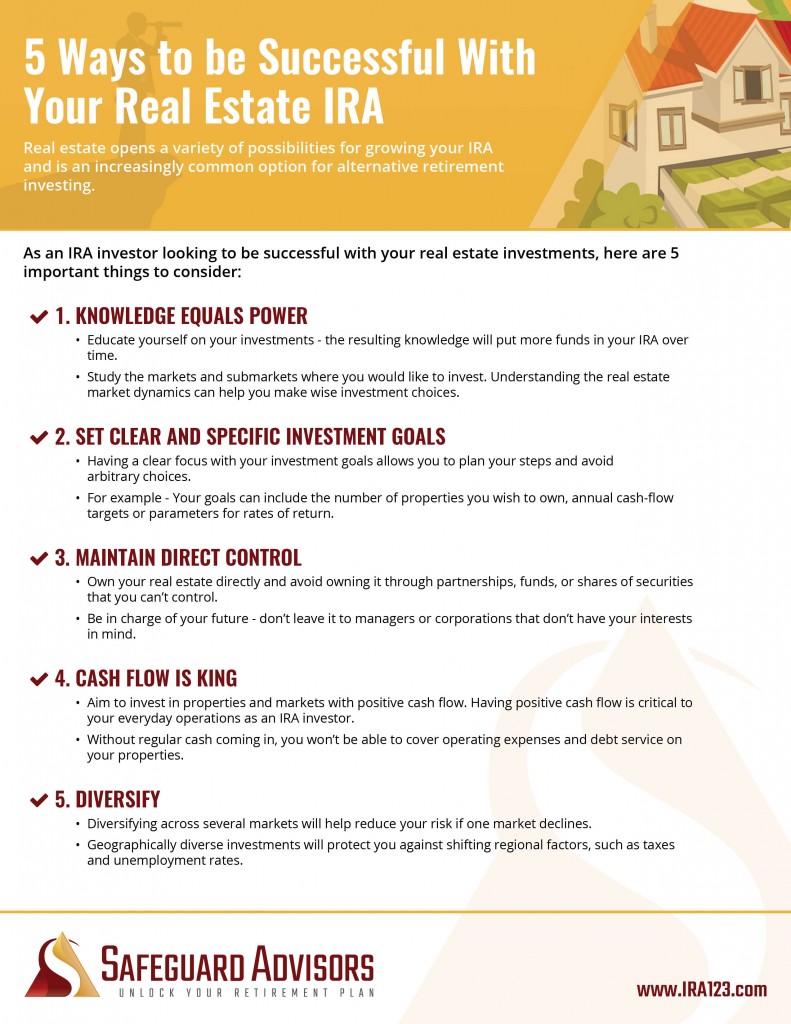 [Photo by:
Guy Kilroy
via
CC License
]