The Advantages of Renting to Digital Nomads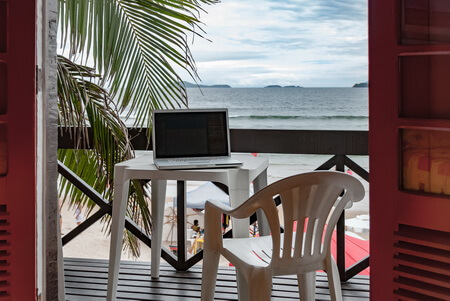 Sometimes success with investing comes with targeting a specific niche and getting it right.  One real estate niche we have been keeping an eye on for some time is digital nomadism.
As more and more of the business world moves online, some people choose to work from where they wish and explore the country or the world while doing so.
Catering to this audience with the right kind of rental property in the right location can be an interesting opportunity for investors looking to diversify with a self-directed IRA or Solo 401(k) Plan.
Who Are Digital Nomads?
Digital nomads are a growing cadre of people who have the flexibility to work anywhere.  They may be remote employees, freelancers, or solopreneurs in fields from IT to creative endeavors.
For some, travelling is a full-time lifestyle, while others may have a home base and opt to go on the road for a portion of the year.  Many choose to mark a transition in life with a one-time exploration stint of a few months to a few years.
Nomads may journey solo, as couples, or as small groups of friends.
Better than half of the folks who can be classified as digital nomads are over the age of 35, so it is not just single millennials who have taken this path.
What Type of Rentals are a Good Fit?
One of the core tenets of the nomadic lifestyle is flexibility.  Digital nomads seek out extended stays that are mid-term in length, such as 1-to-6-months.  Lease terms that allow for this type of flexibility are key.
Properties can be individual units such as studio condos or even co-living spaces where individual rooms in a larger property are rented out to separate tenants.
Location is key.  Digital nomads want to immerse themselves in a place, make connections, and explore.  Access to cultural or entertainment hubs and outdoor recreation are big draws.
The rental should be largely turnkey, meaning fully furnished with a functional kitchen.  In-home laundry is a big plus too.
How to Attract Digital Nomads to Your Property
The fuel of the travelling lifestyle is being able to work from anywhere.  For your property to appeal to this set, it needs to be a functional remote office.
Having dedicated workspaces and fast internet are a must.  Providing other office necessities like a quality coffee station can be a big plus.
Be sure to showcase the features that make your property a suitable place to get work done, as well as a comfortable home base for local adventure.
Your marketing should also feature the types of local attractions that make the area special.  Be sure to include photos of local events like theatre festivals or fairs.  If your rental is in a beach or mountain community, show that natural beauty off.
You can even go so far as to create relationships with local vendors and offer coupons or discounts for their services.  Tour or adventure guides, restaurants, and even the local gym or yoga studio could be open to this idea of co-marketing.  Any type of event that offers adventure or the ability to meet and network will be appreciated by the exploratory personalities that choose this lifestyle.
Reaching the Audience
The internet makes it easy to reach this demographic.
The digital nomad lifestyle is a growing trend and has developed as a community of kindred spirits.  As a result, there are many internet resources and specialty property listing sites that cater to this niche.
Be sure to list your property on sites like Anyplace, HouseStay, or 2nd Address.
You can also feature your property on popular short-term rental sites like Airbnb and VRBO.
A Great Alternative to Short Term Rentals
While similar in some ways to short-term vacation rentals, catering to digital nomads has several advantages for investors with a self-directed retirement plan.
Nomads are very different from tourists.  They are not travelling for leisure.  They are making the community a short-term home.  As a result, they will often treat the property like their home and are a lot less likely to inflict the kind of wear and tear common with guests who are just in town to party for a week.
Nomads are also more likely to want to visit a city or town off season so they can enjoy less crowded beaches, trails, or restaurants.  This give you the ability to keep a property rented year around.
The tradeoff for flexibility can be an above market rent.  Nomads know they may pay a premium for the ability to pop into or out of a location as desire or opportunity dictate.
As we have written in the past, short-term rentals are not always the best option for a tax-exempt IRA or Solo 401(k).  In some cases, these type of vacation rentals can be viewed as a services business more akin to a hotel and therefore subject to tax on Unrelated Business Taxable Income (UBTI).
When average stays are more than 30-days in length, this UBTI concern can be dismissed.  In some locations, it may be feasible to offer short term rentals for a short peak season, then longer term rentals to digital nomads for the remainder of the year.  This approach can balance out the average stay to a longer term and thereby eliminate the risk of being classified as a business.  So long as extra services or amenities like housekeeping are not provided, you can rest assured that income to your plan will be tax-sheltered passive rental income not subject to UBTI.
A Newish Opportunity
As more and more people choose a mobile existence there is certainly interest in this type of lodging.  Because this niche is still relatively new, however, a well marketed property in the right location should be easy to keep rented with quality tenants willing to pay a premium to live life on their terms.