Tips for Screening Renters for your IRA Property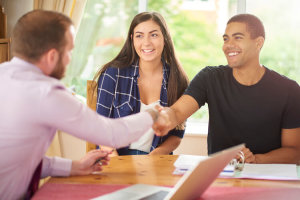 There are many factors that can impact the profitability of a rental property owned by your self-directed IRA or Solo 401(k).
While location, amenities, purchase price and prevailing rents are all important, a huge impact on your property's bottom line relies on finding and keeping quality tenants.
With good tenants, you can reduce your risk for any potential headaches and turnover costs like repairs and vacancy. And the less often you have to find and replace tenants, the better the results for your investment's bottom line.
Online forums like Craigslist are awash with people looking for homes and apartments to rent. But what's the secret to finding and retaining quality tenants who will take good care of your property?
Here are 4 tried-and-true methods to increase your chances of finding quality renters for your IRA property.
Quality Marketing
The search for a tenant starts with getting your phone to ring or emails in your inbox.
You don't just want to be flooded with interest — you want to spend your time with potential tenants who will be well suited to your property.
Make sure to include high-quality photos in your listing to attract interest. But before you snap the picture, ensure your property is properly staged to highlight its unique features.
It's also important to make your rental terms a clear from the start.
Your advertising should include key factors like the monthly rent, expected lease term, deposit requirements and any other key considerations like maximum number of tenants and more.
If you allow pets, be clear about what type and how many. If no pets are allowed, make that clear.
The more effectively your listing answers the basic questions that most renters will have, the more likely you are to hear from only qualified tenants.
Pre-Showing Questions
Prepare a list of questions to ask during your first meeting with a potential tenant. This will help ensure that you only spend time for showings with viable candidates.
Be sure to ask all candidates the same questions to avoid any perception of discrimination. Some of the common questions you might include are:
1. Why are you moving?
A lot can be learned about a potential tenant from the answer to this question. Are they moving for a normal reason, like a job change or needing more space? Or are they moving because of difficulties in their current situation, like an eviction or conflict with their current landlord or neighbors?
2. When is your preferred move-in date?
There are two good reasons for this question: first, there's compatibility with the availability of your rental. Second, a responsible tenant will plan ahead, while someone with an urgency to move may have issues (unless there is some reasonable outside factor, like an unexpected job change).
3. What is your monthly income?
A common rule of thumb is that a tenant's gross income should be at least 3 times the monthly rent.
4. Can you have the required deposit and first month's rent available at move-in?
A tenant who can't cover the initial move-in cost probably doesn't belong in your rental. There will more than likely be financial issues down the road if they don't have the necessary resources on day one.
5. Do you have any pets?
If you don't allow pets, this one is a conversation-ending question for prospective tenants with pets. If you do allow pets but have restrictions, this is your opportunity to make sure the tenant will fit within those guidelines.
6. Will you consent to a credit and/or background check?
Some form of screening is highly recommended. If the candidate won't consent to a credit or background check, then they should be disqualified.
7. How many tenants will there be?
You and/or your city or HOA may have restrictions on the number of tenants. The higher the number of tenants, the higher the expected level of wear and tear on the property.
8. Have you or any of the other tenants been evicted?
This question can tell you a lot about a potential renter.
There's no guarantee that you'll get a truthful answer. But if the candidate is honest and the reason for eviction seems like an anomaly (such as a temporary loss of income,) they may still be a good tenant. An eviction for behavioral reasons is probably a red flag.
9. Can you provide employer and/or prior landlord references?
References from an employer can be useful to verify stable income. References from a past landlord if available can also be very helpful.
Sometimes it's more valuable to get references from a landlord other than their current landlord, who may just be looking for a clean separation and may not be fully forthcoming.
It's best to get consent to contact the employer or landlord directly than to have the tenant provide information that could be falsified.
10. What questions do you have about the property?
It's important to let the tenant ask questions about the property, your policies as a landlord, etc.
To have a successful relationship, the property needs to meet their needs, and identifying any roadblocks up front can save you both a good bit of time and energy. This part of the conversation can also be more free-form, and allow you to get a feeling for their character.
If a client doesn't have a lot of questions, you may get the conversation started by going over the basic terms of the rental, application process, etc.
Questions to Avoid
While you have a right to screen tenants for suitability, you also have an obligation to comply with federal fair housing laws and state or local regulations.
Be sure to avoid any questions that may could be interpreted as discriminatory against protected classes based on race, religion, gender or sexual orientation, nationality, disability or family status.
In many jurisdictions, you may not ask if someone has been arrested. But you may ask if they have been convicted of a crime.
It's a good idea to have your questions on a printed checklist and have the questions reviewed by qualified counsel familiar with local housing laws before screening tenants.
Showing the Property
Visiting the property with the tenant is another opportunity to ensure a good fit.
Keep in mind, the key purpose of the showing is to allow the tenant to determine if the property will suit their needs. Let them take their time and ask questions. Give them space as necessary.
A tenant who thoroughly views a property and comes away interested is much more likely to be a long-term renter than someone rushing through the process who's only aim may be to "just find the next place". This can be especially true in a competitive market where renters feel a need to act quickly.
This encounter is also a less structured interaction, which provides the opportunity to get a feel for the type of person a tenant might be. Sit back and listen, and let your intuition have a chance to gauge the prospect.
Quality Applications Matter
You should always have applications with you during showings, even if you also have an online application option. Not all potential renters will want to use an online version.
Be sure your application has been reviewed by an attorney familiar with state and local housing laws to ensure your paperwork is both compliant and thorough, so you can gather the best possible information to help you make your decision.
Your application may want to include the following:
If you want to run a credit or background check or want permission to contact an employer or prior landlord, be sure to get the proper consent for each such inquiry.
Be clear about any supporting documents you may need, such as pay stubs or tax returns for verification of income.
If you have an application fee, be sure to communicate whether it's refundable or if it may be credited towards first month's rent.
In addition to the application, be sure to have a fact sheet about the property and your lease terms to give the potential tenant.
Most tenants are looking at a lot of properties, perhaps online using multiple devices. Such a property information sheet can be useful both to secure the interest of a good tenant, and to make sure they are clear on the details such as rent amount, lease terms and pet policies.
The Importance of Systems
One of the best ways to ensure good results is to construct a system for screening tenants and taking applications.
Create checklists in advance of advertising your property, and follow those checklists as you interact with potential tenants.
Consistency will protect you in many ways, both through gathering necessary information to evaluate prospects and in remaining compliant with fair housing laws.
By taking the time to properly screen tenants before and during the showing process, and by collecting good information in your application, you can create the highest likelihood of finding the best tenants.
One of the many benefits of a self-directed IRA or Solo 401(k) is the ability to invest locally. You can leverage your knowledge of local neighborhoods and your personal network of associates to find new real estate opportunities.
Discover how you can become a local real estate expert with your IRA >