Who Can be a Registered Agent for an IRA LLC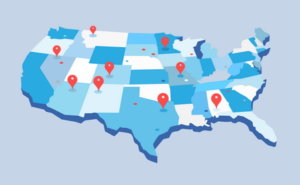 The Checkbook IRA program commonly uses an IRA-owned LLC entity to provide you as the investor with direct control.
An LLC is a state-registered business entity and has certain administrative requirements as a result.  One of those requirements is to maintain a registered agent.
Let's take a look at some considerations that determine how to best fulfil the requirement for a registered agent.
What is a Registered Agent?
A registered agent is the person or business designated by your LLC to receive service of process notices or other official correspondence from the state.
The agent must provide an in-state physical address where notices can be delivered during normal business hours.
Any notices received by the agent must be promptly forwarded to the LLC.
The registered agent is listed in the public record for the LLC in the state business database.
Who Can Be a Registered Agent?
An individual who is a state resident over the age of 18 or a separate business licensed by the state can act as an LLC registered agent.  An LLC may not act as its own agent.
The agent can be a person affiliated with the LLC, such as a member or manager.
An LLC may also designate someone unaffiliated with the LLC like a CPA, attorney, or specialty servicing firm.
Can I Be the Registered Agent?
As the manager of the IRA LLC, you can choose to act as the agent if you are a resident of the state where your LLC is formed.
For many investors, this is the simplest route.  It might not always be the best solution, however.
The LLC agent must be available at the listed address during normal business hours.  Failure to be available for delivery of a summons can have consequences.
If you plan to move, then you would need to update the state record of the change of address for the LLC agent.
Some investors have privacy concerns and may not want their personal or business address listed in the state record regarding the LLC.  If your state requires information about the manager, you are going to be listed anyway, but most states do not require managers be listed.  In states where the manager is not listed, choosing a 3rd party as agent would provide some level of anonymity.
Does my IRA LLC Need a 3rd Party Registered Agent?
If you are not a resident of the state where your LLC is formed, you cannot act as the LLC agent.  Even if you are a resident and able to serve, you may choose not to be the agent for a variety of reasons.
Choosing a 3rd party to act as the LLC agent can make sense if you want some extra privacy or may not be able to regularly fulfil the requirements of agent yourself.
Your LLC can designate someone you know, like a family member, attorney, or CPA who meets the criteria.
You can also choose a commercial registered agent service.  Agent services are commonly available for about $75-$125 per year.
When Situations Change
If you move within your state, move out of state, or simply decide to employ a professional registered agent, you will need to update the state filing for your LLC.
Most states have a simple change form to change the registered agent or even just the address of a current agent.  There is normally a filing fee in the $10-$25 range.  If you are changing your agent during the periodic report filing season for your state, you can sometimes just make the change along with the report.
The Importance of Maintaining a Registered Agent
Failure to maintain a current registered agent can have negative consequences.  If your LLC does not have an active agent, the entity can be administratively dissolved by the state and subject to penalties and fees for reinstatement.
An LLC that is not in good standing may not be able to execute a purchase or sales transaction and may not offer protections in the event of a lawsuit.
If someone sues your LLC and there is no agent to receive service of process, you may not even know you have been sued.  If you don't show up to court, a default judgement could be issued to a claimant against your LLC.
Be sure to keep your LLC agent active and current.  It is easy to do.