6 Tips for a Smooth Rental Property Turnover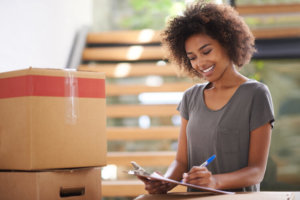 If you're investing your self-directed retirement plan in rental properties, tenant turnover is a part of the process. Successful investors know how to quickly and efficiently execute the turnover process and maximize profits as a result.
The more time a property is vacant, the less time it's producing rent. The less ready a property is when being marketed, the less likely it will attract quality tenants — you get the idea.
As with so many factors of successful property investing in a self-directed IRA or Solo 401(k), having a plan in place before you need it is one of the best ways to be able to act effectively when the need arises.
From timely notifications to knowing when to show and market your property, here are 6 tips to a smooth rental property turnover when a tenant moves out.
1. Timely Notification
Knowing in advance what a tenant's intentions are at the end of a lease term makes it easy to put your turnover process in motion.
With a month-to-month rent, tenants only need to provide a 30-day notice. So whenever the tenant does decide to leave, it may feel like a surprise. Although this isn't optimal, it can be okay in the right market where demand is high.
With longer lease terms, you may want to have a policy that requests notice as much as 60-days in advance if local law allows. In any longer lease, you should make a habit of reaching out to the tenant in writing to see if they intend to renew their lease or not.
Even if the law only requires 30-day notice, that doesn't prevent you from asking your tenant to give you a heads-up about their moving date at least two months in advance. If they plan on terminating their lease, remind them what the proper timeline and process is. (period, not comma)
The bottom line is, the sooner you know, the sooner you can prepare for the turnover process.
2. Setting Proper Expectations with Current Tenants
Within the limits of local landlord-tenant laws, you can ask your current tenants to make certain concessions to help you rent the property quickly.
With proper notice, you can schedule showings while the property is still occupied. If you happen to have a problem tenant, this may not be advisable, however. Waiting to show the property when it's empty and clean may be the better course in some cases.
You should also have a tenant move-out checklist that is delivered as soon as they provide notice. This can include a reminder of the steps they will need to take before vacating, like cleaning, removing all personal belongings, replacing all non-functional light bulbs, etc.
The checklist can also include your expectations of the property condition that will be acceptable and result in a full refund of security deposits.
Several conditions of this checklist will vary based on the quality of property and local laws. In some jurisdictions, your lease can include conditions such as the tenant paying for carpet cleaning.
If applicable, you want to be the one to hire the carpet cleaner and pay for that service out of their deposit, and not rely on the tenant to get this done.
3. Move Out-Inspections
It's best if you or a trusted representative can perform a move-out inspection with the tenant present. This allows you to accurately document the condition of the property with photos and/or video.
Gathering this evidence in the presence of the tenant can avoid any disputes over the actual condition at move-out. It can be helpful to have copies of the images from your move-in inspection, so any pre-existing damage can be identified as well as anything that may be new.
The move out inspection serves two important functions:
To identify whether there are tenant-caused issues that will impact the return of security deposits, and
This is your earliest opportunity to perform a pre-rental check on the condition of the property and identify any repairs that need to be accomplished to make the property safe and rent-ready for your next tenants.
Some landlords perform all of these actions with one checklist in the presence of the exiting tenant. Some may choose to have a separate check-out form, and then perform a more detailed safety and mechanical inspection without the time constraints of having the tenant looking over their shoulder and wanting to give up the keys and move on.
You aren't going to ding a current tenant if the kitchen faucet drips, but you sure want to know that needs to be repaired before bringing in the next renter.
4. Know Your Property Condition
The window between tenants is often the best time to deal with any major repairs or upgrades a property might need. It's much easier to do major systems work like roofing, whole house painting, HVAC, and the like when the property is vacant.
If you're performing regular safety inspections at least once a year, you should have decent handle on the condition of the property. If you know a larger repair is going to be appropriate during your next vacancy, you can start making plans in advance to acquire the materials and hire vendors so the work can be done quickly.
When you combine this prior knowledge with the information from a move-out inspection, you can put in motion any necessary work as quickly as possible once the property is vacant.
5. Execute your Work Plan
By having advanced notice of a vacancy and a general feel for the condition of the property, you should be able to arrange for contractors to perform work quickly. If you need to add a thing or two based on the move out inspection, that can typically be simple to schedule on short notice if it is minor in nature.
6. Marketing the Property
Effectively marketing your rental property is the next step during the tenant turnover process. Timing plays an important role in this strategy.
If your unit is marketable with the current tenant in place (and local laws allow it), start showing the property as soon as possible. This will shorten your time between tenants.
If the property is in less than showable condition, don't show it — it's really is that simple.
I recall a personal case years ago when our family was relocating. We weren't looking to immediately buy a property, and planned to initially rent and get a better feel for the town first. We visited one property that was currently occupied with a hoarder.
Every flat surface in the house was 3 layers deep in old makeup bottles, magazines, and other random items. It was a nice house, and was likely only going to need a thorough cleaning, but we couldn't get out the door fast enough.
We wondered why the property manager was showing the property in this condition. They would have been much better served by waiting for the current tenant to vacate, doing the necessary cleanup, and then showing the property.
Processes Ensure Success
The situations that surround any tenant turnover will vary. By having good plans and checklists in place, and by working with your current tenants to set proper expectations, you give yourself the best chance of having a quick turnover and attracting a quality new tenant.
Discover 8 tips for effectively marketing your rental property to new tenants »