Finding the Best Contractors for Your IRA Properties
Investing in real estate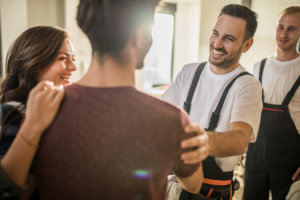 requires working with contractors and tradespeople. Having the best possible contractors on your team is a real key to success.
Whether you need to fully rehab a newly acquired property or just have a little work done on an existing rental within your IRA portfolio, being able to count on a reliable contractor will help keep your projects moving forward and producing income.
The value of reliable and efficient contractors is often overlooked, but can be one of the most important pieces of successful real estate investing with your IRA or Solo 401(k) plan.
Finding quality contractors can be a challenge, however. Below are a few tips that may help you in your search.
Who Can't Be a Contractor for Your IRA?
Of course, since we are talking about investing with a self-directed IRA or Solo 401(k), we need to keep IRS rules at the forefront. There are a handful of folks that can't be a contractor and provide services to your retirement plan because they are viewed as disqualified persons.
No disqualified person can benefit from the plan or provide benefit to the plan. This means your plan cannot hire a disqualified person to perform services. Disqualified persons are also prohibited from providing services for free to the plan.
Number one on the list of disqualified persons is you as the IRA account holder. You may not work on your plan property. Period.
Other disqualified persons include:
Your spouse
Lineal antecedents; parents, grandparents, etc.
Lineal descendants; children, grandchildren, etc.
The spouse of a descendant.
An entity such as a business or trust where one of the above family members has controlling interest.
Fiduciaries and other persons/businesses providing services to your IRA or 401(k) such as a financial advisor.
As long as you avoid any of the above individuals or entities, anyone else is eligible to be hired by your plan for contracting work.
Seek Recommendations
The best way to source contractors is to get the recommendation of a trusted associate. While larger firms such as HVAC, plumbing, and electrical specialist may have the business infrastructure to advertise, most independent tradespeople focus on word of mouth networking to grow their business.
Speak with other property owners you may know and ask for referrals. Real estate agents and property managers will typically have a solid list of vetted service providers they can recommend. If you have access to a local real estate investor club, be sure to ask around for good contractors at meetings.
Another great source of referrals can be the contractors you already work with. For example, your carpet installer may know a great painter. Subcontractors tend to run into each other on various jobs, and will know who shows up when scheduled and delivers as promised.
This referral-based search will not only help you find independent contractors or smaller firms that may be easier to work with, but can also help you identify providers who have made other parties in your network happy with their services.
Licensing & Insurance
While IRS rules do not require that your IRA or Solo 401(k) hire licensed professionals, it's foolish not to. As an owner of real estate, your IRA or 401(k) plan has a certain amount of liability exposure. As a responsible fiduciary for your plan, it's important to make sure you limit your plan's liability exposure by using properly licensed and insured contractors.
If a contractor is injured working on your property and they're not properly insured, the resulting lawsuit could wipe out your retirement savings. Similarly, if shoddy work is performed on your property and a tenant or purchaser of a home sues, your plan could be exposed to that liability in ways that wouldn't be the case with a properly licensed and insured contractor.
So before even asking about services and pricing, keep this item at the top of your priority checklist.
Responsiveness is Valuable
Finding a contractor who is responsive to your inquiries can be difficult. However, it is extremely important.
By nature, contractors and tradespersons are in the field performing their services throughout the day. Having your calls go to voicemail or texts ignored for a period of time is to be expected.
That being said, some contractors are good at managing their customer interface and getting back in a reasonable timeframe — even if it's just a text letting you know when they'll be able to call you back.
A large majority of contractors don't always handle this part of their business well. In our modern age of mobile communications, low-cost virtual receptionists, and online scheduling tools, a lack of responsiveness isn't acceptable.
Project turnaround time is one of the more critical pieces of meeting budgets and keeping your property profitable. Don't let an unresponsive contractor leave you in the dark and sour your IRA property investments.
Be Prepared
Trying to find a plumber once you already have a leak is going to eliminate your ability to be selective. Start networking and building your list of contractors early.
Always use any suitable opportunity to update your list of resources based on referrals. Having contacts who you can reach out to when a need arises will be a huge benefit.
Vetting Contractors
Finding contractors who come with a recommendation and are responsive to your inquires is a critical first step. The next step is vetting those contractors for proper licensing, expertise, and cost.
You should use the same due-diligence to vet a skilled and experienced property manager for your IRA property. Read on to discover the best ways to vet a property manager for your self-directed IRA »